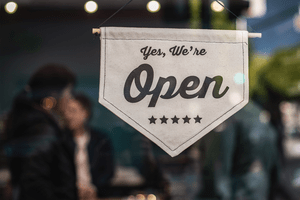 As of date, there are nearly 20 million confirmed cases of Covid-19 world over, and the number of dead from this pandemic has crept up to nearly 700,000. The primary reason why it just keeps spreading is because you can't shut down your business indefinitely and stay safe at home, waiting for Covid-19 to be over. If you could, the pandemic would be over soon.
So if you must keep your doors open to customers, the question you need to ask yourself is this. How to keep your business open and attract customer footfalls? Listed below are five ways to keep your business open during Covid-19 without risking your life and that of your staff, customers, and all our families.
1. Digital marketing strategy after Covid.
It's very simple, really. Your digital marketing strategy has to be focused around reassuring your customers about Covid-19. Businesses that have reopened after lockdown have found their biggest challenge is footfall, because people are scared to walk in, even if the government is saying that businesses can stay open.
Your digital marketing strategy has to explain how you will make sure they'll be safe while buying and making use of your product. Easy ways to do this are to focus on safe distancing, provide attractive offers on essential products, and encourage customers to spend because we all want the economy to recover. Good examples of this are Coca Cola's new Staying apart campaign, and a seafood promotion by US fish farmers.
2. Implement safe distancing regulations.
Implement strict safe distancing at your premises. No customers or staff should come within 3 feet of each other. This can be done using social distancing markers, and also by making use of a retail queue management system.
Since your customers have to maintain safe distancing, you can't let in too many people at the same time. So when you get more people than can be let in, it results in a crowd of people or a queue outside the shop. Go digital to resolve this issue.
See how VirtuaQ solves this problem – how to maintain social distancing at your business without letting a crowd or queue form outside even if there's a delay in serving them. Also look at complying with Safe Entry norms and contact tracing, if required. We can help with this as well.
3. Appeal to your existing customers.
Welcome your customers when they come in, and thank them when they leave. Encourage them to come again and support your business, so that you can stay open.
The customer acquisition cost for new customers is bound to be far more than if you simply target your own existing customers.
Dip into your loyal customer list. Send them product specific offers for their most frequently purchased products. Contact them by phone, email newsletters, on social media, and other and other digital channels. Send them thank you notes for shopping with you. Offer a rewards program for loyal customers, deal of the day, and other freebies that will keep them coming to your store.
4. Reduce business overheads.
It's not a good thing to fire your employees during this crisis, but you should be able to reduce your overheads as much as possible. For example, give up or sublet space you don't need. Outsource or automate non-core functions such as accounting under a pay as you go mode where you won't be paying fixed amounts monthly.
For example, doctors, barber shops, salons and other businesses that have waiting rooms can do away with them. No one wants to wait in a small space with strangers these days. Instead, make use of an appointment scheduling system or queue management system to call your customers into the shop one by one.
5. Automate processes to reduce human interactions.
Try and minimise the fear your customers have of coming into contact with others, or of touching surfaces that have just been touched by someone else.
Contactless entry, robotic hand sanitiser dispensers, shopping, digital payments, tap cards. and other operations where no staff is involved ensures that your customers can walk in and out without ever coming into contact with anyone or anything that could potentially give them Covid-19.