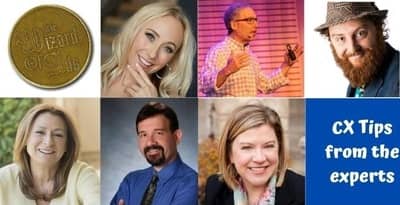 The customer experience and expectations at any and every kind of business has changed incredibly fast since the arrival of Covid-19. Concepts of how to increase sales and revenue by improving CX have now given way to discovering changing consumer behavior - what customers really want in these uncertain times.
To bring some clarity, we provide these customer experience management tips for the post-Covid era, which have been advocated by CX experts. These tips will hopefully help you in finding out what your customers' new expectations are in the age of Covid, and how to fulfill and delight them.
1. Roy H. Williams
The first step in exceeding your customer's expectations is to know those expectations. Read more - http://www.rhw.com/
Roy H. Williams, in his own words, is a lifelong student of humanity, who has spent a quarter-century asking, "What makes people do the things they do?" Author of The Wizard of Ads trilogy of books, his marketing business Wizard of Ads®, Inc. has grown to over 40 branch offices in the US, Canada and Australia.
Twitter: @WizardofAds
LinkedIn: The Wizard of Ads
2. Annette Franz, CCXP
How brands demonstrate that they are all about people first - during times of uncertainty can really showcase who the people-centric brands are. Read more - https://cx-journey.com/.
Annette Franz is founder and CEO of CX Journey Inc. She's got more than 25 years of experience (both client side and vendor side) helping companies understand their employees and customers. She is also the author of Customer Understanding: Three Ways to Put the "Customer" in Customer Experience (and at the Heart of the Business).
Twitter: @annettefranz
LinkedIn: Annette Franz, CCXP
3. Bruce Temkin, CCXP
I suggest that organizations plan for three phases as they head back to business: Explore, Reorient, and Normalize. Read more - https://www.qualtrics.com/
Bruce Temkin leads the Qualtrics XM Institute, and is referred to as the "Godfather of Customer Experience" given that he co-founded and was the initial chair of the Customer Experience Professionals Association (CXPA).
Twitter: @btemkin
LinkedIn: Bruce Temkin, CCXP
4. Nate Brown
I do believe "reduction of customer effort" should be a KEY principle in our experience design efforts, especially right now. People are willing to pay a bit more for both convenience as safety. Read more - https://www.cxaccelerator.com/blog
Nate Brown is Chief Experience Officer at Officium Labs, and the Co-Founder of the CX Accelerator community.
Twitter: @CustomerIsFirst
LinkedIn: Nate Brown
5. Jeanne Bliss
Remember to tell customers what you heard. Change the language of leaders to all be able to articulate these goals now. Then market hope back to both your customers and employees as you progress. Read more - customerbliss.com
Jeanne Bliss, Cofounder of CXPA, helps companies and people become the best version of themselves. She has dedicated an over 35-year career to improving lives.
Twitter: @jeannebliss
LinkedIn: Jeanne Bliss, CCXP
6. Jeannie Walters
There are a few ways we can create extraordinary experiences for our customers in this extraordinary time - Accessibility, Connecting, and Planning for progress. Read more - experienceinvestigators.com
Twitter: @jeanniecw
LinkedIn: Jeannie Walters, CCXP
7. Joseph Michelli
These better new days are perfect for brands that listen well and leverage input swiftly to drive safety, new service delivery methods, and emotional connections. Read more - josephmichelli.com
Twitter: @josephmichelli
LinkedIn: Joseph Michelli, Ph.D.