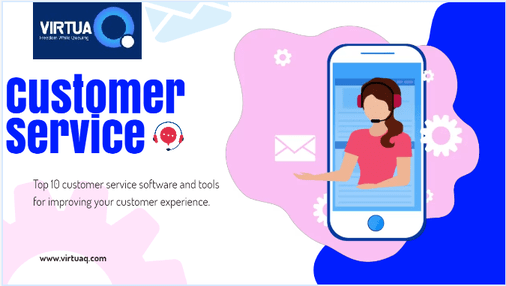 We're in the business of customer experience - how to provide a good customer journey, how to measure CX with post-interaction surveys, and how to use the data and analytics to improve your customer experience.
A big part of this is about how you respond to your existing customers, which in turn depends a lot on the customer service tools you make use of as a business.You can use customer service tools to improve first call resolution (FCR) rates, Net Promoter Score (NPS) and other key CX metrics. Be available to your customers in the time of Covid-19, when they desperately need your help and guidance.
We're providing here a list of the top 10 customer service software that will help you respond better and faster to your customer queries and service requests. The common features of each software are listed, including ticketing, analytics, customization options, availability of free trial, etc.
1. Zoho Desk
Zoho Desk is the industry's first context-aware help desk software. Features include multi-channel helpdesk, self-service, agent productivity, process automation, extensibility, insights and impact reports, and customization capabilities. Offers free trial.
Address: Estancia IT Park, Plot no. 140, 151, GST Road, Vallancheri, Chengalpattu District - 603 202, India
Website: https://www.zoho.com/desk/
2. Zendesk
Zendesk is quick to implement, easy to use, and scales to fit your needs. Their support platform is a simple system for tracking, prioritizing, and solving customer support tickets. Features include ticket forms and custom ticket fields, service level agreement (SLA) views, and multi-brand, multilingual setup. Offers free trial.
Address: 1019 Market St San Francisco, CA 94103
Website: https://www.zendesk.com/
3. Salesforce Service Cloud
Rapidly respond to customer needs on any channel, even from home. Features include Lightning Service Console, case management, omni-channel routing, workflow and approvals, telephony integration, social customer service, macros, account and contact management, customer reports and dashboards, and asset and order management. Offers free trial.
Address: Salesforce Tower 415 Mission Street, 3rd Floor San Francisco, CA 94105
Website:https://www.salesforce.com
4. Freshworks
You will love the Freshworks experience. Over 40,000 customers are already using it. Features include ticketing, collaboration, integrations and automation, and a help widget, among others. Offers a 21-day free trial.
Address: 2950 S. Delaware Street, Suite 201 San Mateo CA 94403
Website: https://www.freshworks.com/
5. Hubspot Service Hub
Hubspot Service Hub™ has all the tools you need to delight customers at scale. Features include 1-to-1 customer communications at scale, tickets, automation and routing, knowledge base, live chat, conversational bots, and goals. Get started for free.
Address: 25 First Street, 2nd Floor Cambridge, MA 02141 United States
Website: https://www.hubspot.com/
6. HelpDesk
HelpDesk is a simple ticketing system for teams. Manage your email communication, and convert your emails into tickets. Collaborate, automate, analyze, and customize. Enable multichannel communication by integrating HelpDesk with live chat and other customer engagement tools to solve tickets. Offers free trial.
Address: Wrocław, Lower Silesia 53-033, Poland
Website: https://www.helpdesk.com/
7. ThinkOwl
ThinkOwl is AI-powered customer service software that sorts, prioritizes and ensures that customer requests from all channels are assigned to the right agent based on topic and urgency. Other features include case management, workflow automation, knowledge delivery, and analytics and reporting. Offers free trial.
Address: The Angebilt Building, 37 N Orange Ave #910L, Orlando, FL 32801
Website: https://www.thinkowl.com/
8. HappyFox
HappyFox is an all-in-one help desk ticketing system with canned actions for faster, templated responses. Features include ticketing system, knowledge base, automation, task management, asset management, help desk report, and more. Offers trial account to test your configuration.
Address: 47 Discovery Ste 170, Irvine, CA 92618, United States
Website: https://www.happyfox.com/
9. Vision Helpdesk
Vision Helpdesk will convert your business email, phone, chat, social media, and web requests into tickets and manage them at one place at central help desk. Features include workflow, SLA and escalation, notification and macros. Offers free trial.
Address: 2nd Floor, Gajra Chambers, Mumbai - Agra National Hwy, Nashik, Maharashtra 422009 - India
Website: https://www.visionhelpdesk.com/
10. osTicket
osTicket is the world's most popular customer support software. Easily scale and streamline your customer service and drastically improve your customer's experience. Features include dashboard reports, configurable help topics, service level agreements, ticket filters, customer support portal, and more. Open source edition available for download, and you can choose what features you want to download.
Address: 1120 5th Street Alexandria, Louisiana 71301 United States
Website: https://osticket.com/