What does a Bollywood actor and cricket team owner have to do with a solution for airport queues? A lot, if you're Juhi Chawla.
The famous hindi actress and celebrity is a passionate supporter of environmental and other social causes, and co-owner of the Kolkata Knight Riders (KKR) IPL cricket team. She was recently left stranded in a crowd for hours at Mumbai Airport, after returning back home from Dubai at the end of the IPL.
The Airport Health Clearance system was processing passengers slower than they were arriving, and there was soon a crowd of passengers from arriving planes left waiting for their clearance. This included Juhi Chawla, and the frustrated actress made her irritation felt in a Twitter message to the Airports Authority of India (AAI)
The response was immediate and viral - from the twitterverse and magazines that picked up the story. The AAI also responded and apologized to the actress for the delay: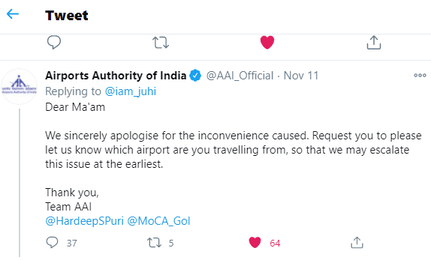 The message is from Team AAI, tagging Honorable Minister for Civil Aviation Hardeep Singh Puri, and the official account of the Civil Aviation Ministry.
It's understandable that safety concerns take priority, and health checks for returning international passengers are a must after Covid-19. But that doesn't mean passengers have to push through crowds or stand in long queues before boarding or after disembarking from flights.
Digital solution for airport queues.
Situations such as the crowding and queues at Mumbai Airport faced by actress Juhi Chawla and her fellow passengers returning from Dubai can be easily avoided with a digital solution.
If passengers did not have to physically line up in queues, and were automatically moved by a digital system through multiple queues (health clearance, immigration, etc.), the passenger flow would be smooth and much faster. It's easy now for airport management to ensure frictionless customer journey from check in to boarding gate. p>
Our digital queue management system, currently being tested as an airport queue solution in India and the United States, addresses this challenge in two ways:
1. Digital token numbers: Instead of getting into a queue and standing there until your turn comes, all you have to do is scan a QR code. The queue system gives you a digital token number on your phone, and sends regular updates about your progress in the queue. You only go to the counter just in time to avail the service.
The queue system also integrates with the airport's digital signage players, so passengers can also see the current numbers being serviced, and know which counter to go to when their turn comes.
2. Pooled queues: When the passenger has to go through multiple queues for everything from parking to entering the terminal, baggage, immigration, check-in and health clearance, it can take a long time to get into one queue, complete the formalities for that one service, and then get into another queue and start over.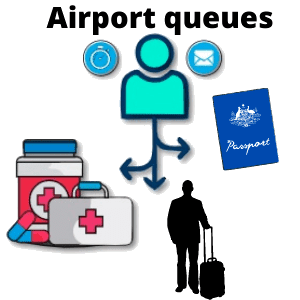 VirtuaQ can allow passengers to enter into a queue, and once done, automatically be transferred by the teller to the next service they need. No one queues up for anything, or goes around asking what they should do next. They simply get a token number and go to the next counter they're asked to come to.
Passenger safety is paramount, but so is the customer experience at airports. There's no need to sacrifice one for the other. Implement digital airport queue solutions that address the queue problem faced by passengers, including actress Juhi Chawla, at Mumbai Airport.
When one can win accolades for enhancing the airport passenger experience, why ignore such easy to implement digital solutions and end up apologising? AAI and the Honorable Minister for Civil Aviation, who are doing a fine job keeping India safe, should introspect on this.