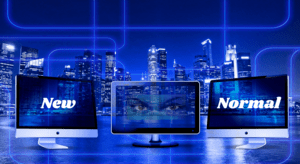 There has been an accelerated acceptance of digital in every vertical, with the pandemic-imposed curbs on transportation and physical meetings. This urgency has rapidly changed the digital customer experience to meet the needs of the New Normal.
In this post, we explore this change in the digital customer experience in banking, automotive, retail, restaurants, government, and healthcare.
1. Digital banking experience.
Before Covid, the focus of improving the digital banking experience was on buzzword technologies such as fintech payment apps, AI chatbots, and cryptocurrencies. Now, the new normal has banks looking for branch transformation technology that can keep their staff and customers safe.
There are queues outside bank branches, because only a limited number of people are being allowed inside at a time. So we're now getting new enquiries about digital queue management systems from banks that are wondering how to manage services at their branches without letting a crowd situation develop both inside and outside, and how to help staff deliver as many services remotely.
2. Appointment scheduling for auto sales test drives.
The focus of automotive sales has shifted from in-person dealership visits to digital car sales because buyers are hesitant to visit dealerships in person.
As a result, the test drive - the lynchpin of car sales, is now done through digital appointment scheduling. The buyer fills in a test drive form online, on the brand or dealership website, providing a preferred date, time and location for it.
Automotive servicing is now also being done with prior appointment scheduling by an increasing number of vehicle owners.
3. Shopping and dining.
Before Covid, people loved to go and do their own shopping and dining in popular supermarkets and malls. They loved the crowds and environment of hundreds of happy shoppers.
The focus of the retail shopping experience has now shifted to omnichannel order management, with online shopping and booking combined with easy and quick physical pick-up at store and/or home delivery.
Shoppers now prefer near-empty supermarkets and malls, with safe distancing markers for standing in during entry and checkout. To avoid queues and crowds, outlets are investing in retail queue management systems.
Supermarkets are being encouraged to use digital queuing solutions by the government, as a way to ensure safe distancing compliance.
Restaurants are likewise skittish about crowds at meal times, and would prefer you to order online. Those who do allow diners to eat in the restaurant must follow safe distancing regulations of 3-6 feet separation between tables.
4. Digital government services.
Cities and countries all over the world are grappling with Covid-19, trying desperately to keep the government and the local economy operational. Under these circumstances, government offices that are still providing manual services have either been shut down, or they're being digitalized.
The best examples are the DMVs that were poster childs for long queues and crowds. Now, the new normal is that anything related to driving licenses - applications, tests, and renewals, is being done online as far as possible.
The norm now is pre-scheduled DMV appointments and no more than 10 minute waits for tests, with the rest of the process being completed online on the DMV website.
Also a sticking point are election queues, with long lines of voters waiting for hours to exercise their right to vote. This has still not gone digital, with recently held 2020 elections in Singapore, the United States, India, New Zealand, and Philippines showing a need for better election queue management systems for the Covid era.
5. Telemedicine - the new hospital patient experience.
Hospitals are on the front lines of the war against Covid, and it has had a deep impact on the patient experience.
Hospitals and clinics prefer to start off with digital telemedicine services, and will call patients to come for tests and/or see the doctor only if required.
We have ourselves been working with state governments in several states in India to help build these telemedicine helplines for responding to Covid-19 queries.
After Covid, this new telemedicine infrastructure will no doubt be used by these hospitals and clinics for offering the new normal in telemedicine.