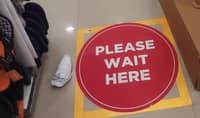 eCommerce has surged during Coronavirus pandemic, with an increased preference for shopping from the safety and comfort of your home. Consumer behaviour has changed due to the forced quarantine and lockdowns. Physical stores, on the other hand, are forced to deal with the new normal of temperature checks, sanitisers, contact tracing, and social distancing queues to maintain at least 3-6 feet of separation between any two people in the store.
Even with all this, retail consumers are still a bit skittish of coming to the store to shop, primarily because social distancing is still an afterthought and easily broken when you go outside.
Many restaurants and retail outlets have closed due to lack of business and / or failure to maintain safe management measures.
How can a retail store owner or manager ensure strict safe distancing is maintained outside and within the premises?
Here's a checklist of our top four retail store queue management strategies that will make your store perfectly safe for yourself, your staff, and all your customers.
1. Get a queue management system
Implement a digital queue management system where someone can easily take a token using his phone and get subsequent updates about their position in the queue. Meanwhile, customers can relax and enjoy a nice break or stay in the car, instead of standing in a long queue for 20-40 minutes outside your entrance. They only have to show up at the entrance after getting a status update, and can go straight in.
2. Entry on odd-even days based on ID card number.
Singapore has implemented this successfully at large markets and high-traffic malls such as Lucky Plaza and Peninsula Plaza, where it gets hard to control the crowds on weekends and holidays. Customers are assigned odd-even days for entry based on the last digit of their identity
card (NRIC/FIN). Those with an odd number as the last digit are assigned odd days of the weekend, while those with even numbers can come on the even days of the weekend.
3. Contactless digital shopping cart to avoid the checkout queue.
A challenge specific to retail stores is the checkout queue. Everyone tends to focus on the queue outside, but the one that irritates customers the most is the checkout queue inside. To avoid this queue, implement contactless digital payments where customers can directly pay for their purchases using an app.
They scan the barcode on the item purchased, and it adds it to their digital cart. After adding all the items into your cart, pay for it through the app, and walk out with the items in your physical shopping cart.
The video above shows a queue at a Decathlon outlet. They do have an app that can be used to help customers pay on their own and leave without getting into this queue. This is what it says on their app features - "For a smooth, quick and easy checkout process with no assistance at our Decathlon Stores, you can now use the App. Simply scan a product you want to buy, order or both, pay for it using UPI, Netbanking, EMI, debit/credit card, and leave the store without any waiting at the checkout counter."
4. Omnichannel order management, with separate queues for pick-ups.
Retailers worldwide have adopted an online-offline omnichannel order management strategy. Customers can order online and pick up goods at the nearest store. Or they can go to the store and browse, select what they like, and then place the order online or on an app. Store, app, web and other channels are all part of the same customer buying process. You can start on one channel, and continue on another one.
This omnichannel retail strategy will come in very handy these days to maintain social distancing. Those who have already purchased and paid for a product online can come and pick up their product. Maintain a separate queue and counter for this service, so that they're not held up by customers who are there at the store to shop and pay.