VirtuaQ is a pre-approved solution under the Productivity Solutions Grant (PSG) initiative. Businesses in Singapore, which qualify for the eligibility conditions, and are looking for a queue management system, can get a quote from us to submit along with their grant application.
Prerequisites for business grant application
Before you begin your application, make sure you are ready with these prerequisites:
A. CorpPass ID
B. Quote from vendor
C. National Registration Identity Card (NRIC)
Step by step guide - Singapore business grant application
Once you are ready with the required documents, you can start the application process. Simply follow this step by step guide on how to apply for a business grant in Singapore.
1. Create an account on a business grant application portal.
Go to https://businessgrants.gov.sg/ and create an account by clicking on "Register for CorpPass." You will need to create this account first in order to apply for a business grant in Singapore.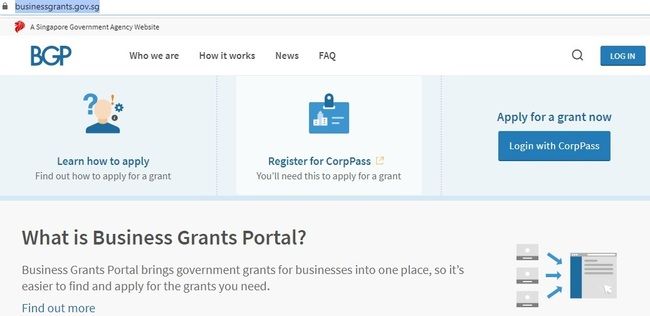 2. Get new grant, and choose your sector.
Once you have logged into the business grants portal, start your grant application by going to "My Grants, and clicking on the "Get new grant" tab under Applications. On the next screen, select the sector that best describes your business.
3. Purpose of applying for government grant.
Why do you need this grant? Select the second option which says "Upgrade key business areas..."
4. Select category of technology requirement.
Select one of these three options - Pre-scoped Productivity Solutions, Core capabilities, or Innovation and productivity.
5. Product brochures and quote, eligibility and contact details.
Get a quote from your preferred vendor, and upload the relevant product brochures (if any). Check your eligibility in the next screen, and update your contact details after that.
6. Pick solution type and provider from list.
Choose whether you are buying equipment or an IT solution. After that, type in the name of your provider, and select the same from the dropdown list when your solution provider's name appears in the list. Scroll down, and choose the number of units needed, date (when you intend to start using the solution), and the reason why you need this solution. Select the vendor, and upload supporting documents. Scroll down further, and fill up the office/shop/factory/institution section, including location of premises where the solution will be implemented,
7. Costing and business impact.
This is the last step in your business grant application. Provide the costing of the solution you are purchasing, and the expected business impact in the screen after that. Explain how this implementation will change the way you do things (eg: enforce social distancing among customers who want to enter your store), and the productivity gains - which tasks will be more efficient, and the percentage improvement expected.
Make sure to hit "Save" at every screen, before you proceed to the next step. It will make sure that you can continue the government grant application afterwards, in case you are not able to complete it right away.