The goal of medicine, or the medical practitioner, is not only to provide treatment, but also to make your patients feel better. One way to do this is by seeing patients as soon as they arrive. To make this work, you have to tell patients when to come, so they arrive just in time to be seen by the doctor.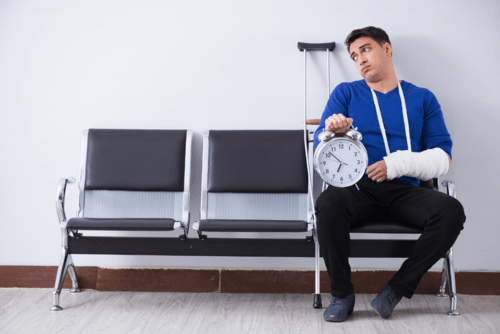 It is a patient flow management issue that is easily resolved if you implement these six ways to reduce wait times in hospitals.
1. Use a patient flow management system.
Having a nurse or orderly tell patients and their families to sit in a row outside your examination room without knowing how long they must wait is not really acceptable these days. Get a patient management system that allows patients to queue up from anywhere, using their phone or on the Internet. The patient management system (PMS) will schedule appointments, and patients arrive right in time after getting a status update via SMS or Whatsapp. They can walk in, and be called in to be seen by the doctor without having to wait for long.
2. Integrate PMS with your healthcare information system.
Identity of patients waiting in the queue must be available instantly to authorized medical staff, for scheduling immediate followups and subsequent visits in future - if any. To do this, integrate the patient flow management system with your existing healthcare information system. It will push the newly acquired data on current patients into the HIS, for future reference.
3. Implement pooled queues.
If you implement pooled queues, patients requiring multiple services will automatically get assigned to the one where medical staff is currently free. For example, people coming for health checkups must be sent for multiple tests - Diagnostics (blood and urine samples), ECG, blood pressure, and then a physical examination by a GP who will look at the reports. These tests can be scheduled using pooled queues, with the patient being sent to the department where the staff is currently free.
4. Prepare medical staff for examinations before patients arrive.
Staff can be ready to quickly provide the services needed by identifying patients, the illness or injury they are coming to you for, and the tests or physician required to handle the case. So the staff should be able to bring up patient records from HIS for someone who just got in line, or the investigation reports from the electronic health records (EHR) system.
5. Ask patients to upload copies of reports and previous medical history.
Send a Whatsapp message or email notifying patients of the time and date of their appointment, along with a patient information form that you would typically ask them to fill up once they arrive. Ask them to fill it up online, and reply back (or upload it to PMS) along with the reports and previous medical history documents they have. This will mean the file is prepared and ready to be seen by the doctor as soon as the patient arrives for the appointment.
6. Use provided data to schedule needed tests before patients are examined by a physician.
In some cases, such as surgery, health checkups, cardiac care, diabetes, broken bones or other physical injuries, patients must go through pre-examination tests such as BP or sugar level testing, blood and urine samples, undergo X-rays, MRIs, CAT scans, etc. These tests can be scheduled by your staff depending on the patient information form and reports provided by the patient before they arrive.
For example, you can make it easier for diabetic patients who want to test their sugar and get their GP to suggest the proper course of treatment and changes in insulin dosage depending on the results. First, you have to take a fasting blood sample before the patient has breakfast, then tell them to go have breakfast, and then come again to provide another sample, and then - after waiting for the blood test results, then they get to see a doctor.
Instead of wasting the patient's time and making them go back and forth like this, you can make it really simple for them, and more efficient for the lab assistant and doctor. Make the patient fill up a Diabetes checkup form online, stating their preferred time for each of the required tests. Send the lab assistant to the patient's home to take the first blood sample, and then let them come to the lab for the second sample, immediately to be followed by the scheduled appointment with the doctor.
Providing such patient-friendly experiences where you reduce wait time in hospitals makes people feel better, and they will be loyal patients who will want to come back to you next time they need to see a doctor.