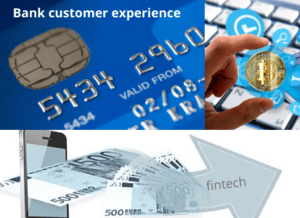 On Nov 6, 2016, India's entire banking system came to grinding halt when the Government of India announced the demonetization of Rs. 500 and Rs. 1,000 currency notes, and the issue of new Rs. 500 and Rs. 2,000 notes. The result was unprecedented crowds and long waiting lines at bank branches and ATMs, plus a 200% increase in downloads of the Paytm digital payments app, and launch of BHIM (Bharat Interface for Money) payment app based on UPI (Unified Payments Interface).
This nationwide upheaval in India highlighted flaws (eg: huge informal economy of SMEs, shops and street vendors not able to receive or make digital payments) in the banking system of the past and the meteoric rise of the digital banking system of the future.
Since then, there have been rapid fintech advancements such as cryptocurrency, blockchain banking and AI chatbots that have the potential to transform the banking sector.
Makes you wonder what's next in the bank customer experience in terms of process simplications and apps. Banks that were offering manual branch services have digitized, and those that have already gone digital are reinventing branches to get people back in them. Now they have to deal with fully digital Neobanks that don't have any branches. How will banks respond?
What is going to happen to banks and banking in 2020 and beyond? Perhaps the answer lies in the history of banking, and they can make use of the immediate past disruptions to prepare for upheavals in future.
Described below is the evolution of the modern banking system, starting from the first banknote issued by the Bank of England in 1695, all the way to digital banking of the 90s, and rise of the Neobanks, open banking APIs, fintechs and payment apps we have today.
History of modern banking
1695 - Bank of England issues first paper banknote - handwritten, with a promise to pay the bearer the sum written.
1728 - First overdraft authorized by Royal Bank of Scotland
1745 - Issue of printed notes, still requiring handwritten signatures.
1855 - Fully printed notes, without requiring any handwritten names or signatures.
How financial technology transformed banking
1871 - Western Union launches money transfer service via telegraph.
1950 - Universal credit card launched by Diners Club.
1958 - American Express launches a credit card.
1959 - Banks agree to start using MICR (magnetic ink character recognition) technology for cheques.
1969 - First ATM (automated teller machine) opened by Barclays Bank in London.
1973 - SWIFT payment network (Society for Worldwide Interbank Financial Telecommunication) established to facilitate fast and secure communications between financial institutions.
Origins of the digital banking system
1983 - Bank of Scotland offers Internet banking service called Homelink.
1994 - Stanford Federal Credit Union starts offering Internet banking to customers.
1995 - Presidential Bank offers customers online access to bank accounts.
Fully digital Neobanks, cryptocurrency and payment apps
1998 - Paypal is founded.
2007 - M-Pesa mobile phone money transfer and bank-telecom payments system launched by Vodafone in Kenya.
2008 - Satoshi Nakamoto (alias) publishes a paper describing bitcoin digital currency.
2009 - First bitcoin software released and cryptocurrency network launched.
2010 - Metro Bank becomes the first bank in the UK in over a century to get a banking license.
2011 - Google launches Google Wallet, now replaced by Google Pay.
2015 - Monzo launched as digital, mobile-only bank in UK.
2016 - PhonePe goes live in India as first UPI payments app.
2017 - Paytm crosses 100m downloads and launches Payments Bank.
2017 - HDFC Bank UPI on Chillr app enables customers of 44 banks to conduct digital transactions.
2019 - Brazilian fintech Nubank crosses 12m digital account customers, who saved 19m hours that would have been lost in queues.
2019 - Facebook proposes Libra as a cryptocurrency, seeking to build a coalition including Paypal, VISA, Payu, Vodafone, Uber and more. Some have since left the coalition.
2019 - Google announces checking accounts, part of a project named Cache, in partnership with Citigroup and the Stanford Federal Credit Union.
2020 - People's Bank of China plans to launch blockchain-based Digital Currency Electronic Payment System (DCEP).
What's next in banking customer experience
The Internet, mobile phones and then smartphones have brought banking full circle - from personalized banking services at bank branches to impersonal service at ATMs, then somewhat personalized online or net banking, and now to hyper-personalized apps in the palm of your hand. Banking institutions are now undertaking branch transformation initiatives to make branches relevant to the customer journey. But the next generation of challenger banks are now more technology companies than financial services providers.
Banks are fighting in unfamiliar territory when they try to transform themselves into technology companies. They should focus on using technology and focus on customer experience rather than making it technology-first banking.
In fact, it's a good bet that banking services will become more customer-centric - even more seamless than they are now, available across any channel that customers prefer. Customers can open an account online or using a banking app, with eKYC docs and facial recognition making it unnecessary to come to the branch to submit documents or sign a form. Transactions can be done on mobile apps, or even through social networks like Whatsapp payments.
Omnichannel customer engagement and queue management systems allow customers to continue conversations with their banker across channels - from the bank website to email, phone, and then to the branch, and back to the website or email.
The ongoing adoption of cryptocurrency, blockchain banking, and open banking APIs by governments and traditional banks makes it possible that customers in the near future will do nothing but digital banking.
Everything from opening an account to transactions, loans and investment advice is already available with a tap on an app. All of it just has to come together as the bank of the future. In other words, (paraphrasing Ron Shevlin, author of Smarter Bank) the bank customer experience of the future is a "Smart" bank in the palm of your hands.