This is a case study of a VirtuaQ client who has implemented our BFSI queue management system. The client is a global commercial and retail banking institution, with over 4,000 retail branches across 36 countries.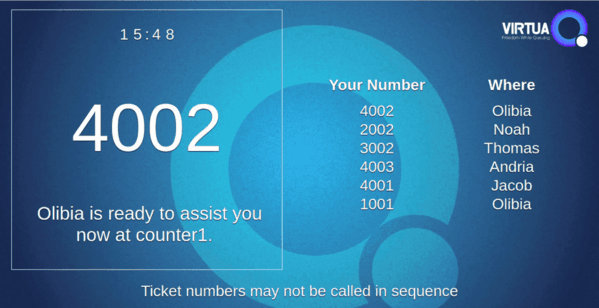 To better manage their rapid growth in the number of retail customers, the challenge was about how to reduce wait times and improve customer service.
They wanted to know how to implement a queue management system that could provide comprehensive reporting metrics, while also allowing them to scale on an enterprise-wide level after running pilot programs in select branches that covered all their geographies, branch sizes and customer demographics.
Queue management challenges in global banking
Globally standardized branding, operations management, and reporting
Faster service
Smaller queues
Internet & mobile enabled
VIP Handling
Integration with core banking, CRMs, DSP networks and other existing systems
Centralized administration, reporting and dashboards
Not all branches can be connected online
The VirtuaQ Banking Solution
VirtuaQ was deployed in an offline mode for the branches where network connectivity was not possible, and in the data center with virtual containers for the connected branches.
Centralized administration is made possible through the VirtuaQ VLS (virtual landscape server), and with remote branches being connected via network connections when required.
Custom integrations into core banking software, customer relationship management systems, and custom reporting solutions were made possible via VirtuaQ's comprehensive enterprise webservice API.
VirtuaQ is actively being rolled out across the client's retail branch network. It is already active today across their network of bank branches in Dubai (UAE), Singapore, Indonesia, Thailand, Panama, and Mexico.
Salient virtual queue management system and kiosk features:
Paper Ticket
SMS Ticket
Multiple Language Kiosk
Card Swipe Reader
Customized Reports
SLA Monitoring & Alerts
Customer Segmentation
Digital Signage
Personalized Greeting
Training for users