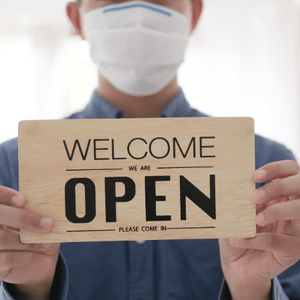 The retail growth strategies you made use of before 2020 must now be updated to factor in the impact of the pandemic. Customers don't walk in, and safety is the first priority - whether in store or ordering online.
What should you do if there's another lockdown, and how do you bring people back afterwards?
How do you reach your customers, and convince them that you are covid-safe and open for business?
Listed below are 8 such effective retail growth strategies that are made for businesses and customers living with the pandemic.
1. Go digital with virtual shopping tools.
The key reason that some retailers, restaurants and other consumer-facing businesses made it through 2020 was because they already had or quickly implemented digital transformation.
Covid does not allow customers and staff to come to your store, or interact with each other.
The solution is to go digital and create a "close-to-reality" virtual shopping experience with eCommerce tools such as ScienceSoft's virtual store creator.
Combine augmented reality and 3D modeling to offer a stunningly real and immersive shopping experience for online buyers.
2. Tell your customers about your safety protocols.
The best way to get people walking into your store is to let them know what Covid safety measures you are taking.
Reassuring buyers that they won't be at risk in your store makes it likely they will consider shopping with you instead of at a competitor's location.
You can do this by creating a safety brochure and/or video that explains what measures have been implemented - digital queue system for safe entry with social distancing, mandatory use of masks, contactless shopping experience, daily temperature checks for staff, etc.
We have collected some examples in this previous post about new retail strategies and technologies after Covid that you can seek inspiration from.
3. Provide home service where possible.
Large retailers already have seamless online-physical store ordering and pickups available.
Customers can order online or at a store, and pick up their order at the nearest outlet or have it delivered home.
Even small businesses can easily implement this with omnichannel retail software. You can find a full list of omnichannel software for retailers here.
With a mobile shopping and delivery van, you can bring the shop over to your customer's residence, and allow them to safely browse and shop for the product they want.
4. Run Facebook ad campaigns to get new customers.
Before 2020, social media for retail stores meant having a Facebook page where you posted pictures and videos of your shop and products. Now, it is the essential lifeline that brings you new customers.
If you haven't run Facebook ads already, now would be a good time to set up and start running a campaign. This can be a Boost or a Lead Ads campaign.
The latter will give you form fills and the customer's name and contact details, so you can call them back.
Here's an in-depth guide on how to generate Facebook leads and get the lead notification directly on your phone.
5. Respond instantly to customer queries.
Over 60% of customers buy from the business that responds first to their digital queries.
In 2020 and beyond, when customers have been forced en-masse into digital shopping, you must be the first one to respond when they're looking around online trying to figure out where to buy.
How to respond instantly to digital queries from customers?
You can reduce your response time to less than 6 minutes if you make use of a tool like Lucep.com that picks up customer form fills from your website, social media, email and other digital platforms.
6. Offer BNPL credit facility.
Buy now, Pay Later or BNPL is a big retail growth strategy targeting both digital and in-store shoppers.
For example, you have a customer who is buying online on your website, and you offer your own BNPL facility for them. They may also avail this offline, at your physical store.
There are different BNPL lending companies that allow SMEs to provide this facility to customers. You can find one depending on the country you are doing business in.
You can also speak with PineLabs to implement BNPL through their in-store PoS machines.
Signing somebody up and approving their BNPL request is very easy, and has the advantage of nurturing loyal customers who will keep coming back to you - to buy what they want now, without worrying about how to pay for it.
7. Local search marketing with Google My Business page.
Again, if you haven't done this already, then you must do it right away. Reviews and photos posted on your Google My Business page are a sure-fire way to optimize local search marketing and get new customers near you.
For example, someone looking for "Japanese restaurant near me" or "mobile phone shop near me" may end up finding your shop address, website and Google page. If they see good reviews and real photos posted by customers on it, they're likely to drop in or check out your website.
Create your Google My Business page now.
One good way to get more customers is to ask your existing customers to post a review on your Google profile page after they buy.
8. Robotic process automation of manual tasks.
Robotic process automation (RPA) doesn't exactly mean deploying metal robots to do the job of humans. It's more along the lines of software robots or automation which emulates human functions or actions.
Manual and repetitive tasks (cleaning, accounting, counter clerks, etc.) that can be automated are highly efficient retail growth strategies while we're still living in the shadow of the pandemic.
Implementing self-checkout makes the process of checkout contactless, and removes the need to have checkout staff.
Automating these tasks, or as many functions as you can, reduces the risk of Covid at your workplace, and also the overheads associated with these functions. Here's a list of RPA tools for small businesses.