The Unique Identification Authority of India (UIDAI), which comes under the jurisdiction of the Ministry of Electronics and Information Technology, has been charged with the responsibility of assigning a 12-digit unique identification (UID) number, termed as Aadhar number, to all residents of India.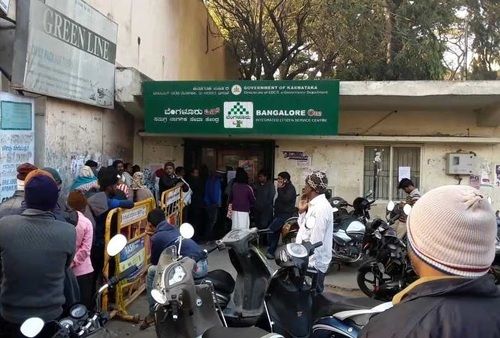 To start with, I'm going to list the three very simple steps you need to take to get an Aadhar Card.
1. Get the Aadhar application form. This form you can download online on uidai.gov.in, or get it from your nearest Aadhar registration agency that does Aadhar enrollment.
2. Fill up the form and keep ready two supporting documents – ID proof and Address proof (PAN Card and Gas Card / Driver's License / Voter ID / Passport / Bank Passbook / Ration Card).
3. Go back in person to the nearest Aadhar enrollment centre with the form and identity documents. They'll scan your documents, get your biometric data, do a retina scan, and take a picture.
That's all you have to do. You'll get your eAadhar copy online after a week or so, and the original Aadhar Card will be mailed to you by India Post in 10-15 days.
Aadhar card statistics
As of Dec 31, 2019, the UIDAI has announced that Aadhar saturation has crossed 125 crore mark. This means that 1.25 billion people in India have now been assigned a 12-digit unique identity, which is 91.24% out of the overall population of 1.37 billion.

Since it was launched, Aadhaar-based authentication services have been used close to 37,000 crore times, and UIDAI receives about 3 crore authentication requests every day.

Nearly 331 crore successful Aadhaar updates have been made till now, including biometric and demographic changes. UIDAI receives about 3-4 lakh such update requests every day.
Queue management system for Aadhar enrollment centers
In a Bangalore One centre, what they do is ask applicants to take a token number and get a scheduled appointment for a specific date and time. The problem is limited capacity allocated to Aadhar enrollment, so people have to come and stand in line for hours, starting from 5 or 6 am, to get the token. Then they will come back for their scheduled appointment.
Pretty much the same issue (sometimes a lot worse - stand in line all day) exists at every Aadhar enrollment centre across India.
Why stand in line for hours to schedule an appointment? It could so easily be resolved using a digital queue management system. Anyone who wants to apply can get an SMS or WhatsApp token and status updates as their scheduled time and date gets close. They just have to arrive on time.
More ways to reduce waiting time for Aadhar card application
Apart from implementing a queuing solution, there are more ways to reduce waiting time and long queues for Aadhar card applications.
a) Online Aadhar application form download.
b) Online form submission.
c) Scanned ID and address proof document uploads.
d) Application form and document verification before enrollment centre visit.
By allowing applicants to download the Aadhar application form, fill it in and then submit it online along with the required ID documents, the amount of time spent by each applicant at the enrollment centre is drastically reduced. This means that the time spent waiting before you get the chance to go in is also reduced, and more people can be served a lot quicker by each enrollment centre - with the same staff and resources as before.
These are some of the benefits of digitizing at least part of the process of Aadhar card applications. Digital transformation plus a queue management system will make government more efficient, reduce costs, and make life easier for citizens.