Seven ways to personalize customer experience
No doubt you're just looking for an easier way to manage queues at your facilities. But with a little bit of technology and software, you can personalize your entire customer experience and journey. Customer service is about meeting expectations, and a queue management system excels at going beyond that by making use of the features listed below.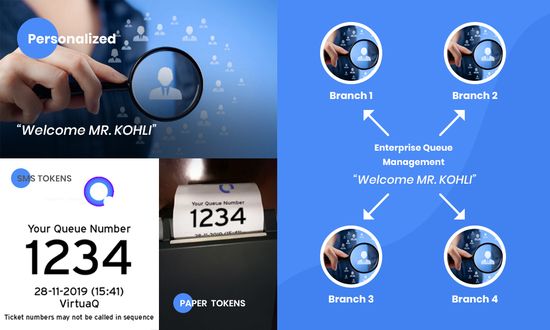 Not all customers in a queue take an appointment, but you have data about every customer who gets into a queue remotely, via phone or using digital channels. Leverage this data for customer identification and segmentation, to personalize greetings at the service counter, and all the associated benefits that come from knowing who your customers are before they arrive. Here's a list of ways in which you can provide a personalized customer experience.
1. Remote queuing.
Allow your customers to queue remotely using SMS, mobile apps, websites, voice calls, virtual kiosks, or social media, and arrive just in time for their appointment.
2. Multi-lingual kiosks.
Your customers speak in different languages. Virtual queue systems can speak to each person in their language of preference.
3. Customer identification.
Virtual appointment scheduling lets you identify and segment customers before they arrive, and better prepare both the customer and your staff. Personalized service where each customer is greeted by name is the best way to start a meeting.
4. VIP prioritization handling.
Identify premier customers before they reach your branch, and support processes to handle these special customers discretely - keeping customer experience levels high. Provide priority and VIP customers extra benefits such as sending them to exclusive queues that have smaller wait times.
5. SLAs and customer feedback.
Getting customers to provide instant feedback while they are still in the branch, and then reverting back instantly to talk to them, will dramatically improve customer satisfaction at all your locations. Set service level agreements (SLAs) specific to your list of most-valued clients, such as their waiting time while they are being served.
6. Transfers.
Sometimes customers get in the wrong queue, and your own staff may have to move them to another counter for availing a follow-up service. Provide your staff the administrative rights to transfer a customer to the next counter ahead of them in the workflow. A seamless transfer on the same ticket, without having to go and take a new ticket and get in queue all over again, saves your customers a lot of time and hassle.
7. Load balancing.
When a customer tries to get in line remotely, they will typically want to come to your branch nearest to them. However, the queue management system should detect their location, and suggest the best branch which has the least waiting time, after factoring in the distance to be covered to get to the branch. This way, you can shift customers from crowded branches to the ones which have less traffic. Also, customers who are going to be late for their scheduled appointment can be granted delays, if asked for.
These are the kind of things that appointment scheduling software can do, which a manual system cannot handle. Get these advantages for your network of branches now, and offer your customers a personalized customer experience.